Baking bread at home gives you a delicious end product with none of the sugars, preservatives, or other additives you often find in store-bought options. However, bread can pose a daunting challenge for even the most experienced bakers. It can take hours of physically demanding kneading and finicky temperatures to get everything just right.  
Using a Dutch oven can take some of the work out of bread baking. You can get a delicious loaf of bread comparable to any artisanal brands you can find at your local bakery. Here, we're going to go over how to get a crunchy, buttery crust and a moist interior every time cooking with a Dutch oven. We'll also go over our top seven picks for the best dutch oven for bread baking.
Here is the Top Pick and the one we use in The Great Bake Kitchen. Scroll down if you want to see the alternatives.
What is a Dutch Oven?
The Dutch oven is a fairly old cooking technique that dates back to the 17th century. It's a heavy cooking pot, most often made of cast iron, that includes a tight-fitting lid and built-in handles. Traditionally, people cooked with Dutch ovens over an open fireplace. While you can still use a Dutch oven for campfire cooking, many people now use the stovetop or oven as a heat source.
A Dutch oven cooks meals using a low, even temperature. The thick walls help to insulate it while also retaining steam, keeping food moist as it cooks. This makes Dutch ovens a popular choice for braising and slow cooking. What many people don't know, however, is that the design of the Dutch oven also lends itself to making moist yet crispy loaves of bread.
The Different Types of Dutch Ovens
There are two main types of Dutch ovens that differ based on materials used during production. The most basic type of Dutch oven is the traditional cast-iron style. These often come pre-seasoned and boast a simple yet elegant design. They're ideal for outdoor use, as they hold up well against wind and weather. They also work well with an open flame, making cast-iron Dutch ovens a good choice for camping. 
Enameled cast-iron Dutch ovens have only gained popularity relatively recently. The cast-iron surface of the pot is coated in thick, nonstick enamel. This type of Dutch oven is popular with homeowners as it looks good, comes in different color options, and is easy to clean. However, it's important to remember that enameled Dutch ovens have a lower temperature limit and are more fragile than their fully cast-iron counterparts.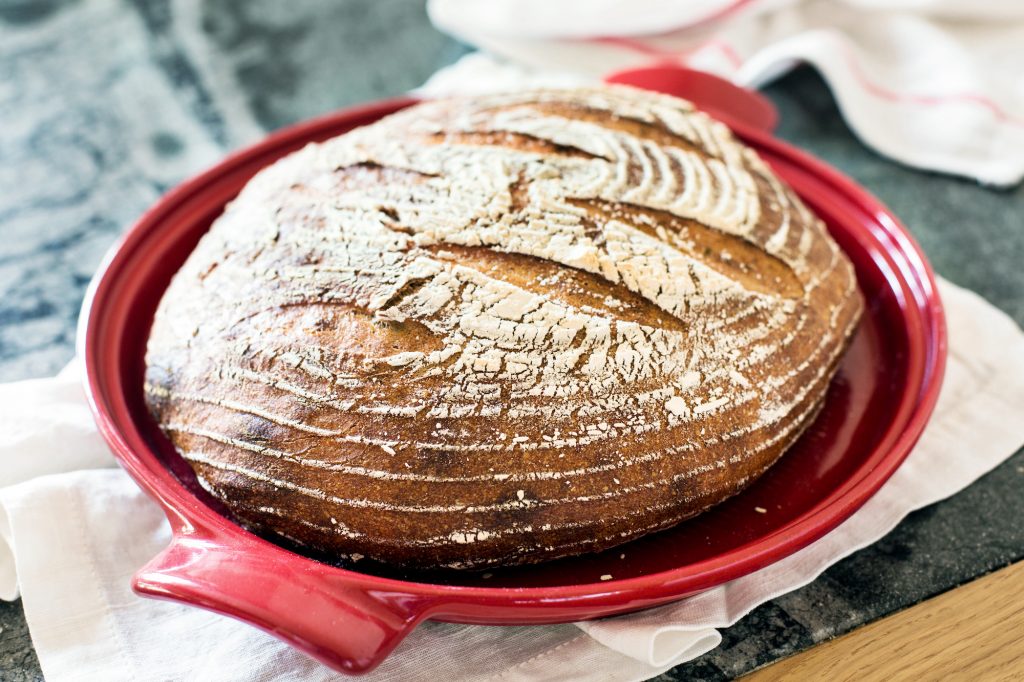 Choosing the Right Dutch Oven
Even if you know whether you want a cast-iron or an enameled model, there are other factors to consider when choosing a Dutch oven, especially if you plan to use it for baking bread. You need to think about things such as the size, construction, and longevity of the pot.
Size
Dutch ovens come in a wide variety of size options, from small family-sized units to options large enough to cook for an entire party. If you want to bake bread in your Dutch oven, you need something that allows enough room for it to expand and rise.
In general, a Dutch oven that holds five or more quarts is the ideal size for baking bread. It's large enough for loaves to rise without sticking to the sides. You may not want to go much bigger than seven quarts because heat may not circulate as efficiently. 
Durability
Most top-quality Dutch ovens are handcrafted, which means that individual units can differ slightly. You should always thoroughly check your pot for any signs of wear, including cracks or scratches in the enamel or cast iron. Handles should be strong and securely fastened to the main unit, while the bottom should sit perfectly flat. 
Most Dutch ovens made by well-known, quality kitchenware brands will last for decades with proper care. Be wary of cheaper, off-brand models, however. These are often mass-produced and offer significantly lower quality than handcrafted alternatives.  
Lid
When it comes to baking bread in a Dutch oven, the lid is one of the most important concerns. It should be heavy and tight-fitting, with a seal that doesn't allow steam to escape. The steam is what allows the bread to "rise" by infiltrating and expanding inside air pockets, so an improperly sealed lid can lead to flat or dry loaves.
The lid should also include a handle either screwed or welded to the assembly. You need to have an easy way to lift the lid on and off as you cook to check on food and add new ingredients. Some Dutch oven designs have a heat-proof covering such as rubber or silicone on the handle to protect you from accidental burns. 
Using a Dutch Oven for Bread Baking
Baking bread in a Dutch oven is deceptively simple. Unlike traditional recipes, which include extensive kneading and rising periods, Dutch oven recipes often offer more of a "set it and forget it" approach to bread making.
The bread rises thanks to steam trapped within the pot, so it doesn't necessarily need yeast. Air pockets form within the dough, expanding thanks to pressure from the steam to form a light, moist interior. At the same time, hot air circulating around the exterior of the bread forms a delicious, crispy crust. 
Our Top Picks for Best Dutch Oven for Bread Baking
Read below to hear more details about our 7 top picks for best dutch ovens for bread baking. 
In Conclusion
By using a Dutch oven, you can have fresh, warm bread on your table any time the mood strikes. As long as you do your research, you can find the perfect Dutch oven to cook your favorite bread, from multi-grain to sourdough. Any of the Dutch ovens covered here are sure to give you a moist, delicious, and effortless bread that your entire family will love.