KitchenAid makes very high-quality stand mixers and other kitchen appliances, along with a range of accessories and bowls in addition to the stainless steel bowl that comes with most mixers.
The bowls come in a choice of three materials. Glass, stainless steel and ceramic. Each has its own function, but most notably, the glass bowls have clear measurements on the side, making adding ingredients very straightforward.
Tip: If you're starting out baking, then a glass bowl can help improve your baking as you'll get an accurate idea of how the ingredients adapt and come together. Appreciating how the ingredients change when mixed at different speeds and with the different attachments will help you get used to your stand mixer and be an all-around better baker.
If you need KitchenAid mixer replacement bowls or are thinking of getting a stand mixer and deciding which bowl you need, use this guide to help. It's also designed to be used as a quick reference if you're looking to see which bowl you might need.
Choosing a KitchenAid bowl by size
If you're looking to pick out a new KitchenAid bowl, then the size might have already been determined by your machine's size. If you have a Mini stand mixer or even a kitchenaid Artisan Mini, you will need to get either a 3.3L/3.5 quart-sized bowl. Most people, however, tend to have either the KitchenAid Classic or Artisan models and therefore require the slightly larger bowls between 4.3-4.8L / 4.5-5 quart. Finally, if you're a full-time baking professional, you have probably ended up with a professional-sized KitchenAid, and these bowls are anywhere from 5L-6.9L / 7 quart.
Tip: If you haven't purchased a stand mixer, I would recommend going for the largest size you can afford. Too many times I've had to split down recipes or do two batches of egg whites when the machine has just been slightly too small to fit everything in the bowl.
If you've already got a KitchenAid, you might be wondering how to tell how many quarts my KitchenAid mixer is? If you look at the bottom of the bowl, the bowl capacity will usually be engraved into the base. However, you'll eventually learn to tell the difference just by looking.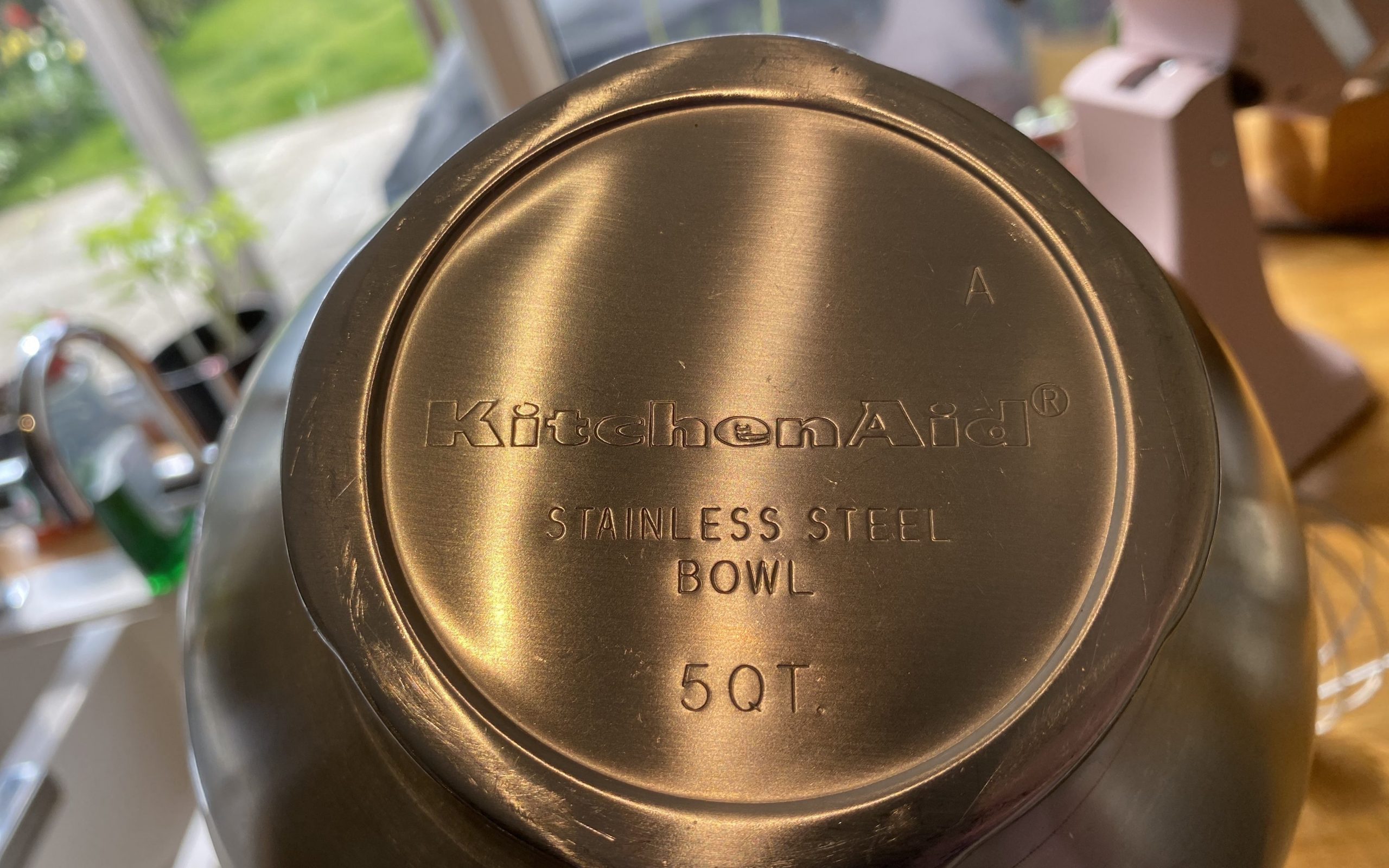 Choosing your KitchenAid bowl material
If you already know what size bowl you need, you're ready to pick the material. There are a few options:
Stainless Steel – Usually best for bread dough
Ceramic – Most stylish & KitchenAid decorative bowls
Glass – Best heat retention and good for
Some of the ceramic food mixing bowls colors, however, the stainless steel and glass options are generally not painted so they remain hygienic. If you're looking for KitchenAid pink mixing bowls for example, then it would have to be ceramic.
There are some bowls such as an ice cream maker bowl that only come in one material, these are more of an attachment and can't be used to make other foods other than ice cream.
Popular KitchenAid Bowl Questions
If you've still got some burning questions, hopefully, we have the answers.
Do all KitchenAid bowls fit all mixers?
No. Unfortunately not, but you can get most of the different types of bowls for the stand mixer's different sizes.
What size bowl comes with a KitchenAid mixer?
Most KitchenAid stand mixers come with a very high-quality stainless steel bowl. This is true for the Classic, Artisan and Professional range (KitchenAid big mixer). Sometimes on promotion, they will include additional extra bowls, always worth keeping an eye on the latest deals.
How do I know what size KitchenAid mixer I have?
On the side of your stand mixer, in the silver strip, there should be a label either saying: Mini, Classic, Artisan or Professional:
Mini has a capacity of 3.3L (3.5 quart)
Classic has a capacity of 4.3L (4.5 quart) Sometimes know as the k45 kitchenaid bowl.
Artisan has a capacity of 4.8L (5 quart) Known as kitchenaid 4.8 litre glass bowl glass.
Professional models are the biggest KitchenAid mixers, and have a capacity of 6.9L (7 quart)
Are KitchenAid mixer bowls dishwasher safe?
Glass and stainless steel Kitchen Aid mixer bowls are all dishwasher safe. The 6 qt glass mixing bowl kitchenaid is best cleaned in the dishwasher and lasts a long time without discolouration. KitchenAid mixing bowls are easy to clean to maintain a high level of food hygiene.
Will a 6 quart bowl fit a 5 quart KitchenAid mixer?
The bowls for the 6 and 7 quart mixers are not compatible with the smaller models. This is because these larger bowls come under the bowl-lift technology and not the tilt-head design. 
Why are KitchenAid bowls so expensive?
KitchenAid bowls are built to last and therefore are more expensive than some of their cheaper competitors. For example, the ceramic bowls are lined with titanium to make them more durable, so you can't always see the extra expense, but they stand the test of time. Not all mixer bowls on the market will be able to last as long as KitchenAid bowls.
Will a 5 quart bowl fit a 4.5 quart KitchenAid mixer?
Both of these models are in the tilt-head design, so nearly all bowls are designed to fit both. This makes it easy to swap bowls between the two models, which is great if you end up owning multiple stand mixers. In short, are KitchenAid mixer bowls interchangeable? There are various sizes but the 5 and 4.5-quart bowls are interchangeable with each other.
How heavy is KitchenAid mixer?
KitchenAid's weigh between 5 and 15kg, so you need to store your stand mixer on either a sturdy worktop or a shelf designed to take the weight.
Are stainless steel or glass mixing bowls better?
Glass bowls retain heat for longer, so this generally depends on what you are mixing. You can see how your mixture is coming along through the glass bowls, but both bowls yield great results.
What should you not mix in a metal bowl?
Avoid too many acidic flavours such as lemon juice or vinegar as they can sometimes taint the metal. Although in small doses this is fine, such as lemon in a lemon cake batter.
Stand mixer models may vary, and not all mixer bowls will fit each stand mixer. We hope this reference guide has been helpful for you to have a think about which mixer bowl you might need.
Have a question of your own? Please let us know, and we will aim to get back to you and add it to this page to help future bakers!