Have you wondered how bakers get their American style buttercream so light and smooth? Well we're here to give you all the hints and tips to get you on your way to professional delicious buttercream.
Time needed: 10 minutes.
How to cream butter (and sugar)
Measure and Prepare

Measure out your butter into the KitchenAid mixing bowl. We suggest using the paddle attachment on your KitchenAid. Using the whisk attachment will cause the butter to get stuck in the whisk, and won't cream effectively.

Beat for 6-8 minutes

Turn on your stand mixer to a medium-high setting, and beat well for approximately 6-8 minutes. This is a good time to prepare all your other ingredients, or have a quick tea break!

Ready to add sugar

Your butter should have whitened in color. It should also be much smoother in consistency, and should be sticking to the sides of the bowl.
How to cream butter and sugar
Now that your butter is smooth, you are ready for the next stage. It's now time for you to add the sugar. Most cakes use a type of caster sugar, if the aim is for a light fluffy sponge. We use Tate & Lyle white caster sugar, due to the superfine granules which result in the best sponge results. 
Measure out your sugar and add to the bowl of butter. The paddle attachment will still be the best to use for your creaming. Turn the mixer to a medium speed, and allow the butter and sugar to cream together for 2-3 minutes.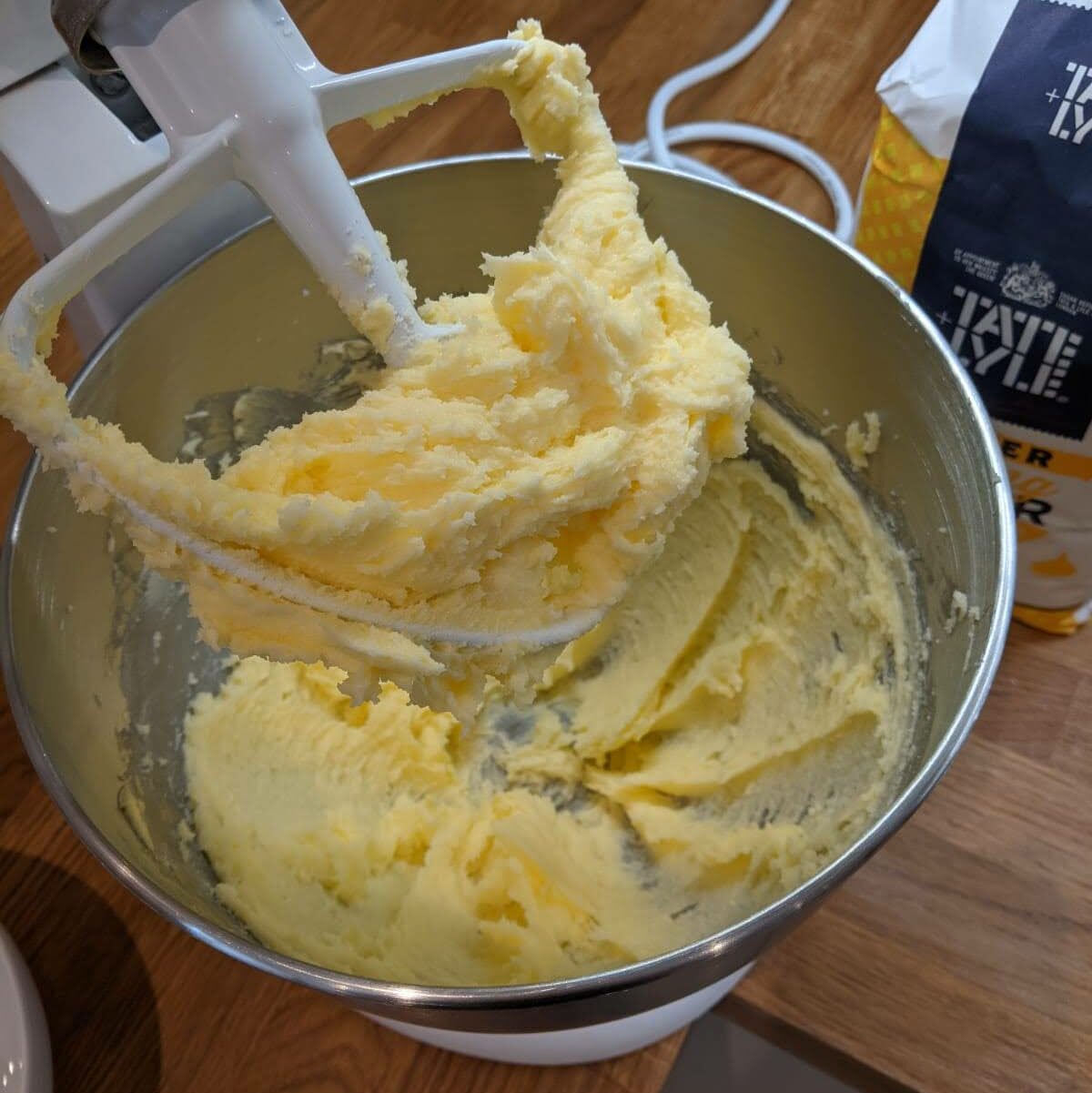 One your butter and sugar have had a chance to mix together well, the colour should still be light and creamy. There should be no visible lumps of sugar. If there is, you may need to leave the mixture creaming for a little longer.
Your mixture is now ready to add the rest of your ingredients to your cake.
Helpful tip
A helpful tip before you start properly mixing all of your cake ingredients together is to cream the butter. This helps to get the butter extremely light and fluffy. 
We recommend using a KitchenAid or hand mixer for the technique of creaming your butter. You can use a good old wooden spoon, but you'll need a lot of elbow grease to get the desired consistency. 
Prepare your butter
We follow correct food hygiene policies, and keep our butter in the fridge. You'll  need to take the butter out of the fridge around 1 hour before using, to ensure the correct consistency for creaming.
The butter should have been allowed to warm slightly to room temperature. It should be soft to the touch and pliable. If your butter still feels too cold, you can warm it in a microwaveable bowl in 10-second bursts. Make sure you keep an eye on the butter so it doesn't get too soft and melt!
Background of butter
With so many people taking up baking recently, there has been an increase in people trying their hand at cupcakes with piped buttercream on top. But how can you make sure the butter is the right consistency for piping, and what does it mean when a recipe is asking you to cream the butter? Carry on reading below for our step-by-step guide.
To start with, when a recipe states to use butter or margarine, always choose butter! Unless of course you are making a dairy free cake… Although traditionally used in cake making, margarine is heavily processed. We recommend using a high quality unsalted butter (Yeo Valley/ President) for your baking.
A few more traditional recipes will suggest the "all in one" method, by adding all the ingredients into a bowl and mixing at the same time. We love Mary Berry, but she loves the traditional "all in one" method. In our experience, you are not able to introduce as much air into the mixture to produce a light sponge. You are also more likely to have a lumpy batter, which could result in holes in your sponge.