Red velvet cake is a mysterious and decadent dessert that has gained immense popularity in recent years. Over the years, there have been continuous debates over what precisely red velvet is. With more and more food and drink items marketed with a "red velvet flavor," one burning question persists: What is red velvet cake supposed to taste like?
Many people posit that red velvet cake is simply chocolate cake with red flavoring. This notion is neither true nor false. It's this confusion that perhaps adds to the allure of red velvet cake to begin with. The rarely perceptible but main difference between the two is that red velvet might require slightly less cocoa than chocolate cake.
Red velvet cake also contains an acidic taste that derives from buttermilk and sometimes vinegar. In the early days, the reaction of the buttermilk's acidity with the alkali in the cocoa originally gave the cake a slight red tint. However, this tone would hardly resemble the vibrant red we see in the cake today because of food coloring.
Many still debate whether the cake's name came from the red tint produced by the acidity or the use of brown sugar, which was referred to then as red sugar.
Using buttermilk also gives the cake its distinctively soft and moist texture, resembling that of velvet. Red velvet cake in later years has typically included a cream cheese frosting, which also contributes to its signature acidic, sweet taste.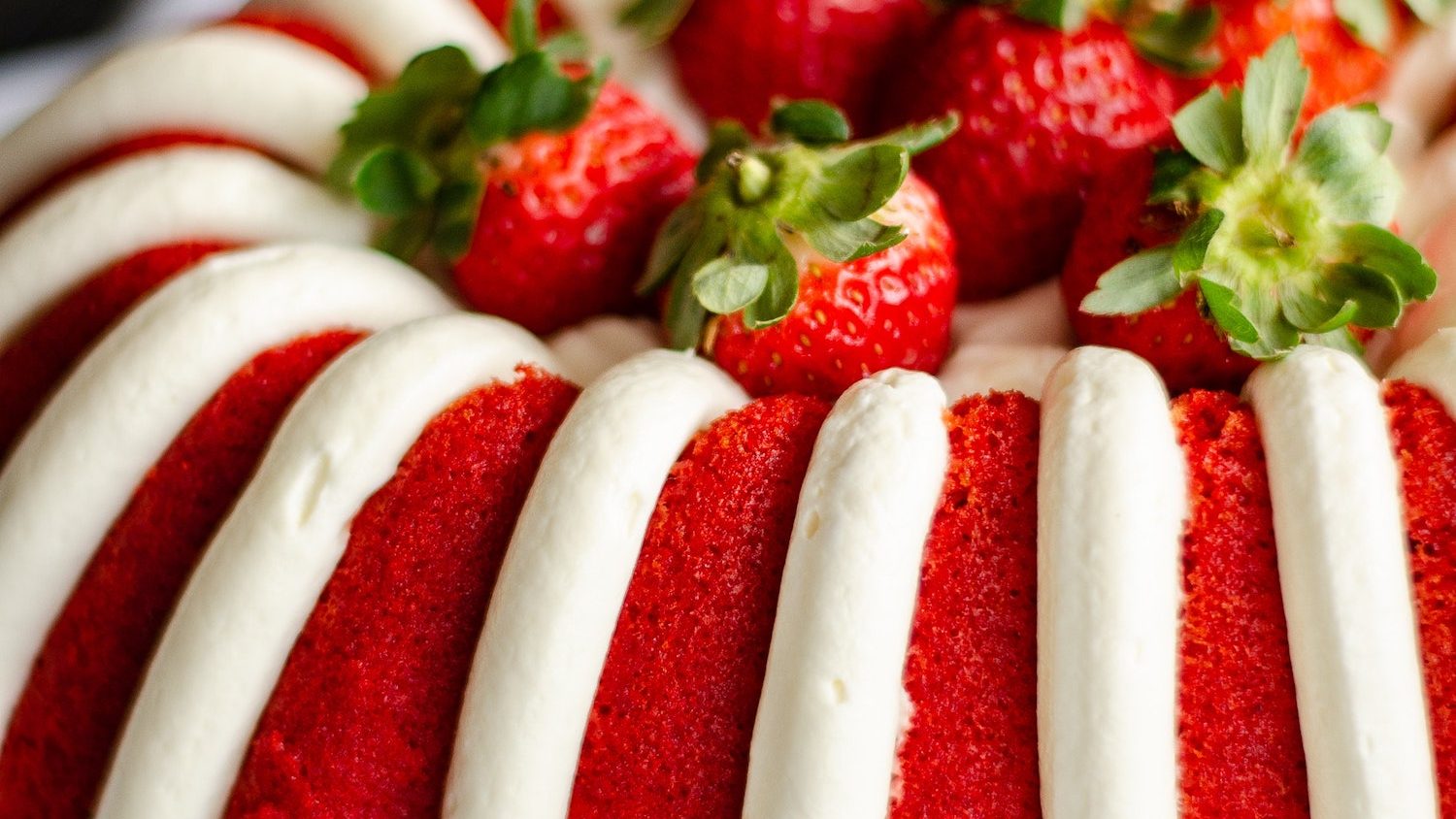 History of Red Velvet
There have been a few debates over the origins of red velvet cake. One repeatedly spread myth tells the story of a chef at the Waldorf Astoria Hotel.
The legend here goes that during the 1920s, the chef invented the recipe for red velvet cake that soon became popular among the hotel guests. The recipe is thought to have eventually leaked when a customer who asked for the recipe became offended by a $350 bill the chef sent along with it. Upon receipt of the bill, the angered customer sent a chain letter to all of her socialite friends containing the recipe.
While this is a fun story, it remains to be just a legend. The mythical origins of many other recipes share the same tale. The truth about red velvet cake is much less exciting. Instead, it reflects the consumerist reality that the popularity of red velvet continues to project today.
During the Great Depression, families could not prolong the use of unnecessary cooking luxuries like food colorings and extracts. This prompted the Adams Extract company to make an impact on driving sales, and as a result, the Adams Red Velvet Cake recipe was born.
Adams' business strategy was successful. The scarlet-colored cake became a hit among households across America and likely provided a much-needed sprinkle of positivity for citizens of that time. Grocery stores would even hand out free recipe cards to entice people into trying out the recipe.
So, there you have it. Rather than a best kept secret recipe that leaked out of angst, the origins of the red velvet cake are merely a result of a marketing ploy.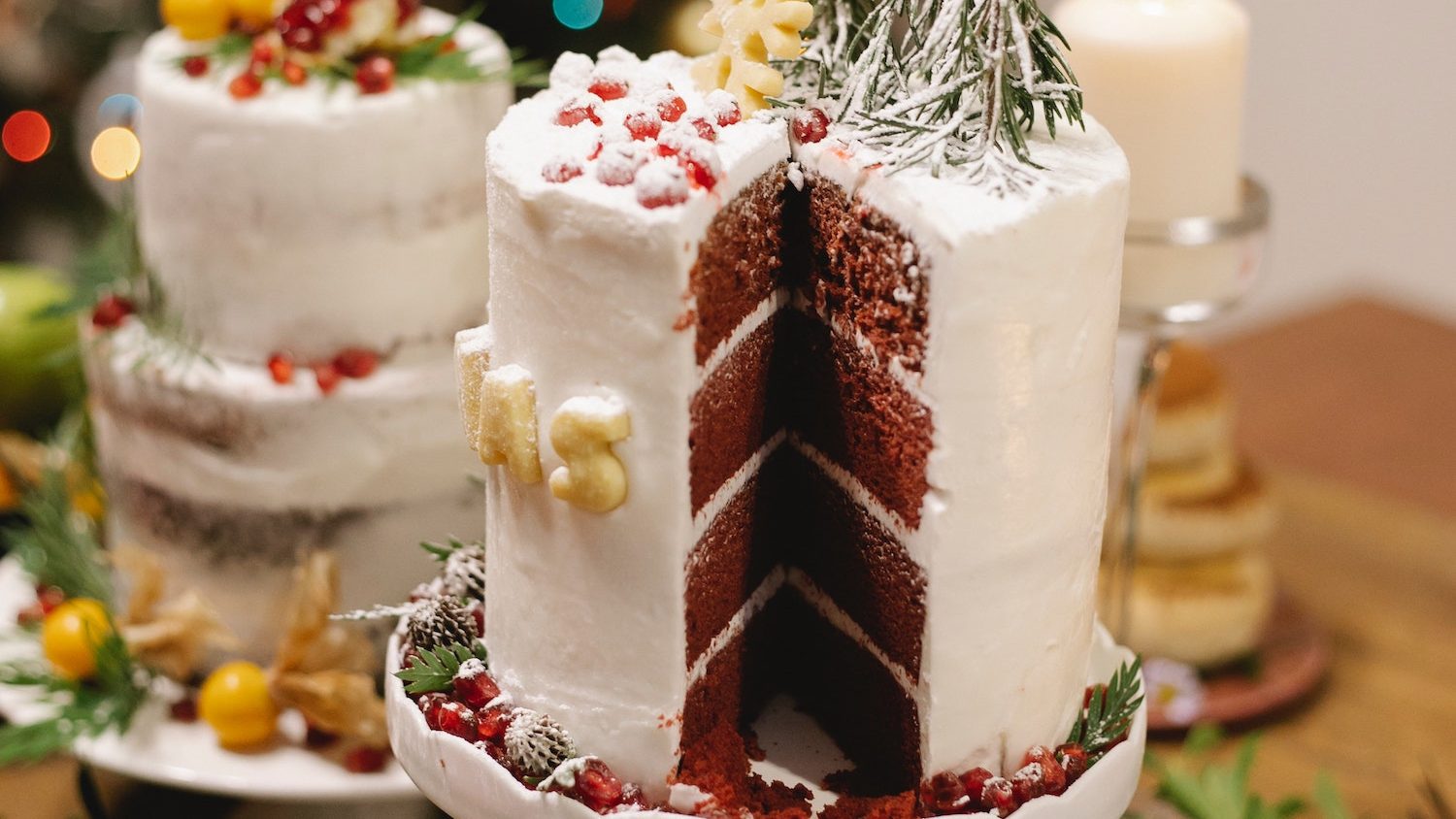 Traditional Recipe and Ingredients
Because of the Food, Drug, and Cosmetic Act of 1938, the traditional ingredients to give red velvet cake its distinction were as simple as buttermilk, vinegar, cocoa powder, coffee, and lots of red food coloring. When we think of chocolate cake, it contains a similar ingredient list. In the 1800s, bakers often used almond flour, cocoa, or cornstarch to help soften the protein found in flour so that their cakes would have a more delicate, velvety texture.
The origins are unknown when it comes to the emergence of the cake's pairing with cream cheese frosting. Essentially, during the mid-twentieth century, a chef took it upon themselves to ice the cake with a mix of milk and flour that was then whipped into butter and sugar. This created a stark white and fluffy mixture known to be ermine frosting.
Here are the typical ingredients you can use for a red velvet cake recipe:
Cake Batter:
Vegetable oil to grease the pans
2 1/2 C of flour, all-purpose
1 1/2 C of sugar
1 tsp baking soda
1 tsp fine salt
1 tsp cocoa powder
1 1/2 C of vegetable oil
1 cup of room temperature buttermilk
2 large room temperature eggs
2 tablespoons red food coloring
1 tsp white distilled vinegar
1 tsp vanilla extract
Begin by preheating your oven to 350 degrees. Next, you need to grease three 9×1 1/2 inch cake pans. Make sure you dust them with flour to prevent the cake from sticking. Then, you'll have to take a big bowl and sift your dry ingredients together. This includes your cocoa powder, sugar, salt, flour, and baking soda.
In a second bowl, whisk the wet ingredients together: oil, buttermilk, food coloring, eggs, vinegar, and vanilla. Mix the wet ingredients into the dry ingredients using a standing mixer until a smooth batter is formed.
From here, you can divide the batter evenly into the cake pans. Be sure to place the pans in the oven spaced apart evenly, so the heat is evenly distributed. While baking, rotate the pans halfway until the cake pulls away from the side of the pans. Try inserting a toothpick into the cake's center. Once it comes out clean, usually in about 30 minutes, the cake is ready.
Take the cakes out of the oven and try running a knife around the edges to gently loosen them from the pans' sides. Invert the cakes onto a plate and place them on cooling, rounded sides.
In order to ice the cake after it has cooled down:
1.   Place one layer in the middle of the rotating cake stand.
2.   Spread the frosting over the top of the cake using a palette knife or spatula.
3.   Try to spread enough frosting for a layer of ¼ to ½ inches.
4.   Carefully layer the cakes on top of each other, rounded-side down.
5.   Add a thick layer of frosting over the entire cake with the remaining frosting.
Cream Cheese Frosting:
16 ounces of softened cream cheese
4 cups confectioners' sugar, sifted
2 sticks unsalted butter (1 cup), softened
1 teaspoon vanilla extract
Using a hand-held electric mixer or standing mixer, blend the cream cheese, sugar, and butter at low speed. From here, raise the speed to high and blend the frosting mix until you achieve a light, fluffy consistency. This should take roughly five minutes.
As you decrease the mixer's speed to low, add the vanilla. Intermittently raise the speed to high and mix until fluffy. You'll want to store the frosting in the refrigerator until it's slightly stiffened before using it for optimal texture, or so it sticks to the cake. You should be able to store the frosting in the refrigerator for up to three days.
Recipe Variations
Over time, the red velvet cake recipe has incorporated a plethora of variations in its ingredients and baking methods.
According to Kraft Foods, which owns the famous Philadelphia Cream Cheese brand, cream cheese frosting was first introduced in the 1940s.
Many chefs have since experimented with various ingredients to modify or simplify the red velvet cake recipe. These include using a cup of oil instead of creaming butter or using shortening and flour. Other recipes have called for morello sour juice for a perfectly balanced acidic flavor.
One popular variation created by a renowned pastry chef from Miller Union in Atlanta, Pamela Moxley, includes using beets to achieve the vibrant red color while using lots of acid to balance its taste. Paying homage to a traditional beet goat cheese salad, Moxley's variation is topped with a goat cheese and cream cheese mixture, tarragon ice cream, and garnished with tiny beet chips.
Red Coloring Alternatives
As we discussed earlier, the primary differentiation between red velvet cake and chocolate cake is the red food coloring. Over the years, many have questioned whether the use of the dye Red #40 in food can contribute to health concerns. According to the Center for Science in the Public Interest, excessive consumption of this dye can cause various side effects, mainly hypersensitivity.
The red velvet cake recipe calls for a mere few tablespoons of red dye on average, so experiencing these side effects are pretty rare unless you constantly consume it.
Still, many bakers try to avoid these potential risks by incorporating various substitutes and alternatives to red dyes and food coloring. Some of these alternatives include:
Undiluted beet juice
Undiluted pomegranate juice
Beet powder
Dried hibiscus flowers that you have boiled in water, strained
Cranberries boiled with just enough water to cover, strained
Morello sour cherry juice
Conclusion
Red velvet cake has gained increased popularity over the years, not just as a cake recipe but also as a general flavor for many foods and drink items. From red velvet cupcakes to milkshakes to alcoholic beverages, people just can't get enough of the red velvet craze.
What began as a marketing tactic to sell more food coloring has since become a staple in the pastry community. And with several recipe variations, bakers everywhere are putting their spin on it.
The distinction is typically so subtle that even a blindfold test of chocolate versus red velvet might be difficult to win when it comes to its taste. Still, that acidic, sweet taste mixed with cream cheese frosting is what keeps us coming back for more.